The best way I can describe Ramadan to non-Muslims is if we celebrated Thanksgiving for an entire month.
Despite the fact that we don't eat for 16 hours, we like to break our fast with Ramadan-only food. (it's extra special since we don't eat like this all year round)
I feel so blessed and lucky to be able to spend everyday with my family and enjoy the food that we all make together.
Oh and the dates!
I am sure every family has their own Ramadan specific meals, but here is a sample of what my family usually eats: the best part is that we usually have family and friends over on most nights to share the meal with.
Pakora
Potato Curry
Stuffed Shells- my contribution to the meal. My dad called them imitation lasagna!
Chicken curry
And fruit salad number #1
We also make a fruit punch+ sorbet type drink- my sister is usually in charge of that.
Some eggrolls
Fruit salad #2
With pound cake and custard.
After fasting for 16 hours, I am usually full after a bite or two, so a meal like this will last for a few days!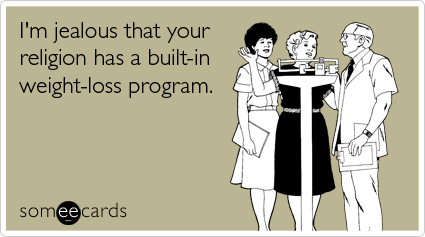 I have to be the only person that GAINS weight during Ramadan. My metabolism is not happy. However this is not the month to be worried about the scale.