I started off Fitbloggin Day 2 starving and sore. I think I was hungry and sore this entire conference. SuperSana problems?
Luckily, my roommates and I were able to quickly get ourselves dressed and down for breakfast.
I found some fun toppings and oatmeal.
But I was just in the mood for some yogurt with brown sugar and honey.
I usually never eat plain yogurt without something savory so I went a bit overboard on the brown sugar, but it sure was tasty!
I was totally jealous watching everyone do the trampoline workout, I would have  done the workout had I not been so sore from the Crossfit workout! It really looked like a lot of fun!
After breakfast we mingled with the fantastic Fitbloggin sponsors; Gabby knocked out a hardcore handstand!
I also had fun chatting with Laura– hopefully we can also meet up at the conference next year!
In between sessions my roommates and I decided to film a short video recapping our time together at Fitbloggin. You can check out the video HERE.
Did I mention that I had never met my roommates before/never talked to them before meeting at Fitbloggin? I am glad we all got so along well, otherwise it would have been awkward sharing a bed together
After we filmed I attended a session on how to Turn Your Post into an Article. I am glad I went because Susan gave me a lot of ideas for future blog posts!
I grabbed some Laughing Cow wedges after that session, I really enjoyed the garden vegetable spread-it was a bit hard to get out of the wrapping. But I managed.
Oh and I ate some more Popchips. It is safe to say that I am officially obsessed.
The lunch was the best meal at Fitbloggin!
Couscous, salmon and roasted veggie/hummus sandwiches!
Post-lunch we all managed to squeeze in for a group picture. $5 to anyone who can find me!
I Instagramed myself with a Puravit tote in attempts to win a $250 Lululemon gift card….I hope I win, not sure if they selected a winner already.
Also I am terrible at using Instagram. Please don't follow me.
I tried out a Soyjoy bar, I was not impressed. It was dry and cake-like.
We ended the day with a fantastic session by Kelly Olexa on Monetizing The Pitch- you will want to check out the Live blog here.
The main message I got from the talk is to use common sense when it comes to working with brands.
For dinner I joined a group of bloggers/vloggers for dinner at Kona Grill, I was totally over seafood but I was not going to miss out on the opportunity to connect with other bloggers.
We ordered some avocado eggrolls to share, this was my first time eating them and I will order them again for sure.
For dinner I had some Pad Thai with shrimp, I was wayy too full from the appetizers to finish it all.
Wanna know what happens when you ask a blogger to take a picture of you?
Yeah.. nice eyeball, Hank.
After dinner Lindsay and I decided to go for an evening walk along the Inner Harbor. I just have to say that Lindsay is the sweetest and I adore her adorable babies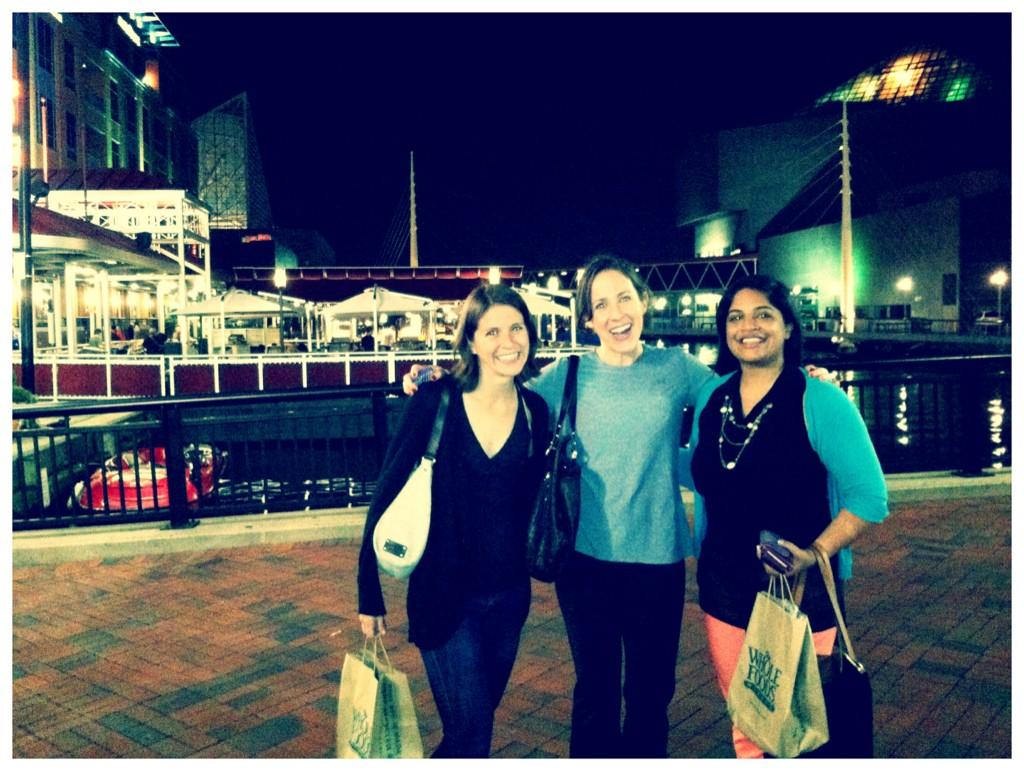 We met up with Meg for a quick stop at Whole Foods. I decided to rope people into having a kombucha drinking party with me back and the hotel. Just kidding .
But I have to say, the Mystic Mango flavor was reallllly good.